CELCAA comments on the Communication from the Commission on 'TRADE POLICY REVIEW : AN OPEN, SUSTAINABLE AND ASSERTIVE TRADE POLICY'
We first wish to underline the role of trade in the European economy should be rewarded: In the recent years, agricultural trade has contributed to more than 7% of the EU positive trade balance with third counties. Agri-trade plays an important role supporting farmers' income, economic development, vitality of the European rural areas and food security in the European Union and worldwide. Imports into the EU contribute to socio-economic development in many developing or emerging countries while the EU market needs imports to meet its internal demand and complete the offer from EU production. It is important to reiterate again that the EU is the principal trading block worldwide, being the biggest exporting and second-biggest importing trading bloc, representing 151.2 EUR billion and 119.3 EUR billion respectively in 2019. Any policy shift in the EU trade policy will be scrutinised not only by EU stakeholders but also by the international trade community.
PRESS RELEASE
'Trade in agri-food and commodities is part of a resilient and sustainable food system', CELCAA stressed in a high level on-line Conference organised on 10th March 2021. The theme of the Conference was 'EU Trade Policy- What ambitions for the EU agri-food trade' and participants discussed the impact on the EU agri-food trade of the Farm to Fork Strategy and the recent Trade Communication 'An open, sustainable and assertive Trade Policy'. The Conference, officially opened by Executive Vice-President Mr. Vladis Dombrovskis, featured the interventions of Commissioner for Agriculture and Rural Development, Janusz Wojciechowski; current AGRI FISH Council Chair, Maria do Céu Antunes; FAO Chief Economist, Maximo Torero Cullen; Director at DG Trade Rupert Schlegelmilch, as well as representatives of dairy, wine and meat trade sectors. CELCAA stressed the preponderant role of the EU in global trade in agri-food products, called for increased collaboration with third countries towards more sustainability, and to resist from protectionism calls.
Program of the conference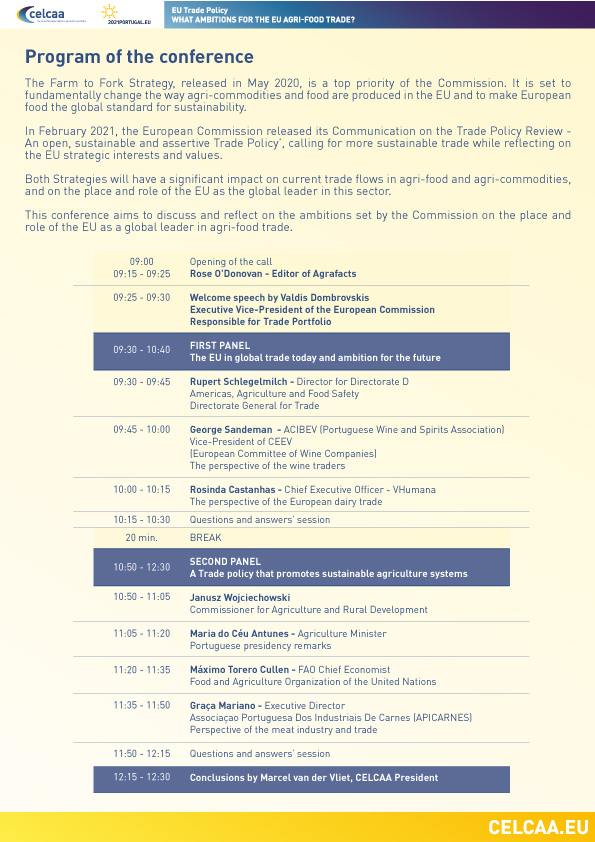 The Farm to Fork Strategy, released in May 2020, is a top priority of the Commission. It is set to fundamentally change the way agri-commodities and food are produced in the EU and to make European food the global standard for sustainability. In February 2021, the European Commission released its Communication on the Trade Policy Review – An open, sustainable and assertive Trade Policy', calling for more sustainable trade while reflecting on the EU strategic interests and values. Both Strategies will have a significant impact on current trade flows in agri-food and agri-commodities, and on the place and role of the EU as the global leader in this sector. This conference aims to discuss and reflect on the ambitions set by the Commission on the place and role of the EU as a global leader in agri-food trade.
Valdis Dombrovskis- Executive Vice-President of the European Commission
Valdis Dombrovskis is Executive Vice-President of the European Commission responsible for an Economy that Works for People, also in charge of Trade (since October 2020). Before this, he was Vice-President responsible for the euro, social dialogue, financial services and the Capital Markets Union.
In Latvia, he was his country's longest-serving head of government with three terms as prime minister. He served as Finance Minister, was a Member of the Latvian Parliament and elected twice to the European Parliament.
In his pre-political life, he worked as chief economist at the Bank of Latvia and before that, as a research assistant at Mainz University, at the Institute of Solid-State Physics in Latvia and the University of Maryland.
Valdis Dombrovskis was born on 5 August 1971 in Riga, and holds degrees in both physics and economics.
Janusz Wojciechowski- Commissioner for Agriculture and Rural Development
Janusz Wojciechowski  was born in Rawa Mazowiecka, Poland, in 1954. Member of the European Commission since 1 December 2019, responsible for Agriculture, lawyer, attorney.
He has advanced legal studies: Master's degree in law, graduated from the University of Łódź, Department of Law and Administration. He was Member of the European Court of Auditors, representing Poland, from May 2016 to November 2019. He was also a judge, President of the Supreme Audit Office of Poland, Vice-marshal of the Parliament of the Republic of Poland, Member of the European Parliament of 3 terms (2004-2016);  Member of the European Parliament's Intergroup on the Welfare and Conservation of Animals in the European Parliament since his 1st term in 2004; since 2014 – its President.
Author & co-author of the comments on the Polish Penal Code (5x); author of more than 100 articles and publications on criminal law in various legal magazines in Poland and author of articles on socio-legal issues.
Maria do Céu Antunes, Agriculture Minister, Chair of AGRI-FISH Council, Portuguese Presidency
Maria do Céu Antunes was born in 1970 in Abrantes and is Minister of Agriculture in Portugal.
Ms do Céu Antunes holds a degree in Biochemistry from the Faculty of Science and Technology of the University of Coimbra and a postgraduate degree in Quality Management and Food Safety from the Egas Moniz School of Health Sciences. She was Secretary of State for Regional Development from February to October 2019.
She was Mayor of Abrantes for 9 years and since 2013 has chaired the Council of the Médio Tejo Intermunicipal Community.
Ms Céu Antunes was a member of the Economic and Social Council, and of the Council of European Communities and Regions at the Standing Committee for Equality of Women and Men in Local Life.
She is a member of the Monitoring Committee of the Regional Operational Programme of the Centro Region – Centro 2020, and of the Executive Committee of the Regional Tourism Authority of the Centro de Portugal Region, while also chairing the board of TecParques – Portuguese Association of Science and Technology Parks.
She has received the following awards: Most Family-Friendly Local Authority, Equal Lives Municipal Award, The Tesla Sustainable Leadership Award – Leadership category, Women of the Decade in Public Life Award – All Ladies League.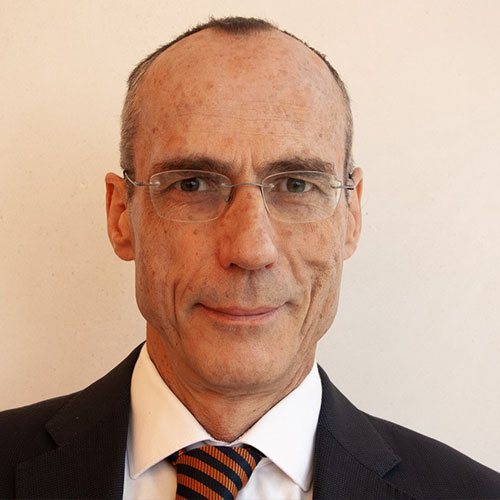 Rupert Schlegelmilch- Director for America, Agriculture and Food Safety - Directorate General for Trade, European Commission
Mr Schlegelmilch studied law and political science in Freiburg im Breisgau and Berlin. He joined the German Foreign Service in 1987 and the European Commission Directorate General for External Relations in 1993. From 1998 to 2003 he worked on WTO matters in the European Commission Delegation in Geneva.
From 2003 to 2010, Mr Schlegelmilch was responsible in the European Commission's Directorate General for Trade (DG TRADE), for the EU's bilateral trade relations first with China, and later for the trade relations with the Americas and South Asia, Korea and ASEAN.
In 2011 he became the Director in DG TRADE, for Trade in Services, Investment, Government Procurement and the protection of Intellectual Property Rights (IPR). He has been the EU's Chief negotiator for the EU-Singapore, the EU-Ukraine, and the EU-Mercosur Free Trade Agreements.
From 2016 to 2019 Mr Schlegelmilch served as the European Union's Ambassador to the OECD and UNESCO in Paris.
In October 2019 he returned to DG TRADE in Brussels as the Director for the United States, Canada, Latin America as well as Agriculture and food safety trade issues.
Máximo Torero Cullen, FAO Chief Economist Food and Agriculture Organization of the United Nations
Dr. Máximo Torero Cullen is the Chief Economist of the Food and Agriculture Organization of the United Nations (FAO). He joined the Organization in January 2019 as Assistant Director-General for the Economic and Social Development Department. Prior to joining FAO, he had been Executive Director at the World Bank Group since November 2016 and, before the Bank, Dr. Torero led the Markets, Trade, and Institutions Division at the International Food Policy Research Institute (IFPRI). His major research work lies in analyzing poverty, inequality, importance of geography and assets (private or public) in explaining poverty, and in policies oriented towards poverty alleviation based on the role played by infrastructure, institutions, and on how technological breakthroughs (or discontinuities) can improve the welfare of households and small farmers. His experience encompasses Latin America, Sub-Saharan Africa, and Asia. Dr. Torero, a national of Peru, holds a Ph.D. and a Master's Degree in Economics from the University of California, Los Angeles (UCLA), and a Bachelor's degree in Economics from the University of the Pacific, Lima, Peru. He is a professor on leave at the University of the Pacific (Peru) and an Alexander von Humboldt Fellow at University of Bonn, Germany, and has also published in top journals (QJE, Econometric Theory, AER-Applied Microeconomics, RSTAT, Labor Economics and many other top journals). In 2000, Dr. Torero has received the Georg Foster Research Fellowship of the Alexander von Humboldt Foundation, won the Award for Outstanding Research on Development given by The Global Development Network, twice, in 2000 and in 2002 and received the Chevalier de l'Ordre du Mérite Agricole in 2014.
Rosinda Castanhas, Chief Executive Officer of VHumana, Portugal

Rosinda Castanhas was founder and is currently CEO of VHUMANA in Portugal.
She has held the position of CEO for more than 25 years.
She has 30+ years of experience in large companies in Portugal, France and Brazil in the Food and Feed sector on production and trading activities.
VHUMANA is member of the European Dairy Trade Association Eucolait.
Graça Mariano, Executive Director Associaçao Portuguesa Dos Industriais De Carnes (APICARNES)

Graça Mariano has a degree in veterinary medicine and also a master's degree, both from the University of Lisbon.
Since 2020 Graça is Executive Director of the Portuguese Meat Industry Association (APIC).
Before joining APIC, she was Deputy Director-General of DGAV- General Directorate of Food and Veterinary (of the Ministry of Agriculture) from July 2016 to August 2020.
Graça also has experience as Director of services of the Portuguese Authority for Food and Economic Security (ASAE), in different positions, from August 2007 to August 2015.
Graça has a broad knowledge of the functioning of the Portuguese ministry and agencies, as well as of the EU institutions, having been actively involved as a representative of Portugal in EFSA meetings, in the Advisory Forum, in the Focal Point and in several Working Groups. She has being tutor in numerous courses organized under the 'Better Training for Safer Food' project.
George Sandeman- Vice-President of CEEV (European Committee of Wine Companies)
George Sandeman, VP of Comité Vins and representative of ACIBEV – Wine & Spirit Association of Portugal,  has more than 40 years experience in a diversity of roles in the wine trade, ranging from general management, brand strategy & marketing, public relations and public affairs. He has worked for family and multinational companies and lived in England, Spain, and the USA. George Sandeman recently founded EX AMPULLA, a new venture which aims to apply practical solutions to new projects in the wine sector using hands-on, real-world experience, lateral thinking and imagination.
Marcel van der Vliet, CELCAA President
Marcel Van der Vliet grew up at the family farm in Friesland, the heart of Dutch dairy farming, as son of livestock (cattle & sheep) traders. Marcel holds a Master of Arts Degree in International Relations from the University of Groningen, with a specialization in international political economy, with a special interest in the WTO and the European Union. He is working as Sales and Procurement Manager at Van Drie Ingredients in the Netherlands, since March 2016. In this capacity, Marcel trades dairy commodities and food & feed ingredients for different entities within the family-owned Van Drie Group. Previous to this position, Marcel was trading manager at Cargill Cocoa & Chocolate NV, in Mouscron, Belgium; responsible for the procurement of all non-cocoa ingredients for Cargill's European chocolate manufacturing sites. Before that Marcel was trader & export manager in dairy commodities and ingredients at the Dutch Hoogwegt Group, responsible for markets in Africa and business development in the Middle-East and Central America.
Rose O'Donovan- Editor of Agrafacts
Rose O'Donovan has been Editor of AGRA FACTS & AGRA FOCUS since March 2010, having previously worked as Deputy Editor on the agricultural publications for nearly three years. Prior to working as a journalist, she dealt with international relations on the EU satellite navigation programme at the Galileo Joint Undertaking. Following the completion of a Master of Science (MSc) at University College Cork (Ireland), Rose moved to Brussels in 2004 to work as an intern in the Cabinet of former European Parliament President, Pat Cox. She is also a reporter for the West Cork newspaper The Southern Star & a regular contributor to 'CountryWide' on Ireland's RTÉ Radio 1.