CELCAA contribution to the public consultation 'A Renewed Trade Policy for a Stronger Europe'

CELCAA welcomes the consultation launched by Trade Commissioner Phil Hogan 'A renewed trade policy for a stronger Europe'. This reflection comes timely, considering the impact of the pandemic Covid-19 on the EU economy and the contraction of global and EU trade, the rise of unilateral protectionism, the impasse at WTO- to name a few challenges.
International trade plays a crucial role in supporting economic growth, creating value for the EU economy and globally, and supporting livelihoods. 36 million jobs in the European Union depend directly or indirectly on the EU's ability to trade with the rest of the world. EU exports support 20 million jobs outside the EU, including many in developing countries. Before reflecting on the future EU trade policy, the first step is to take stock of these achievements and recognise the value of trade for the EU and the global economy.
CELCAA vision for EU trade policy
for 2020

Driving EU Agri-Food Trade Forward – CELCAA view for 2020
Delivering on an ambitious EU trade policy, built on a continually growing demand for high quality EU agri-food policies was the central call from the CELCAA trade conference held in Brussels on 21st March 2019. Echoing this view was Agriculture Commissioner Philip Hogan who noted the "…unsurpassed safety and quality of our products has made us the leading trader of high quality food and drink products in the world."  His Commission colleague, Trade Commissioner Cecilia Malmström stressed "Agri-food trade is growing – and the EU's Free Trade Agreements are contributing to its success. Agricultural products are very popular with our partners. There is growing demand for EU food and wine. Our agreements cover a third of total EU agri-food exports and more than 40% of imports. We have been improving the terms too – because the agreements we are negotiating now are not the same old business".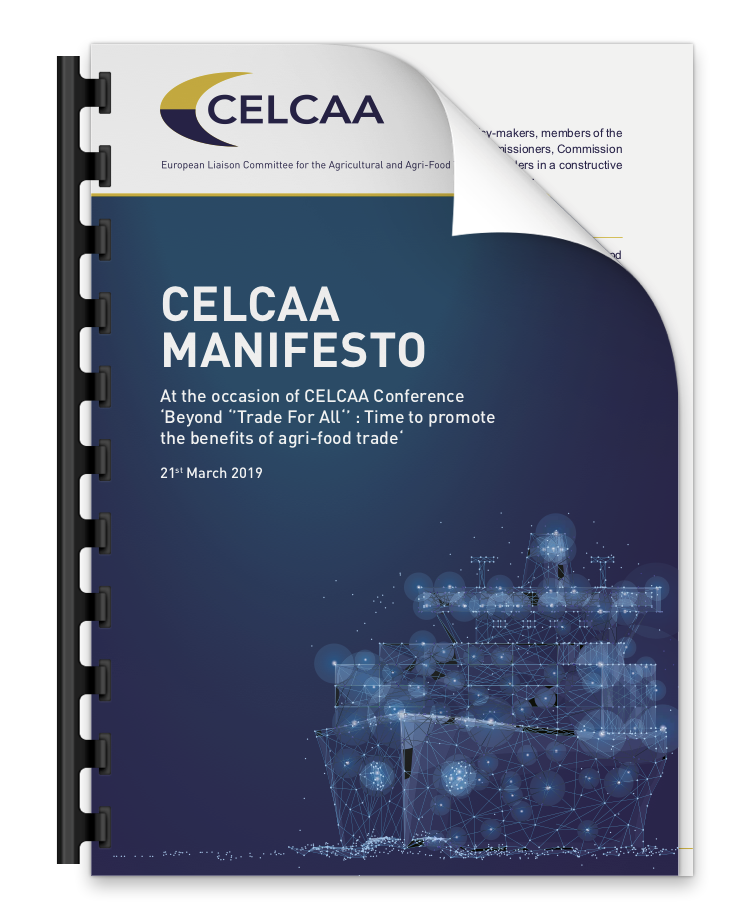 Launching event